RotoPrecision is pleased to announce it has achieved MAC Approval and is now a fully authorized Motovario Assembly Center in Canada.

"This is an exciting time for us," commented Gregg Robinson, President of RotoPrecision. "Our 15 years of experience as Motovario's Master Distributor in Canada, in conjunction with our recent MAC certification, will allow us to provide unparalleled service to Canadian industry. It represents the culmination of a significant investment in capital, in-house training and a commitment to increased inventory levels by RotoPrecision."

"The combination of RotoPrecision's industry-leading customer service and Motovario's broad range of world-class power transmission products including Helical, Helical-Bevel, Worm and Shaft-Mount Reducers, as well as Mechanical Variators and Electric Motors, will set the stage for a greatly enhanced customer experience across the country," he continued.

Mark Cousson, Quality and Customer Service Manager for the Motovario Corporation, added "Motovario is very proud to have RotoPrecison on board. Having been one of our preferred distributors for over a decade, we can attest to RotoPrecision's dedication to customer satisfaction and their ability to seek out creative solutions."

RotoPrecision's MAC center is located in Mississauga, Ontario and is supported by regional sales offices and additional stocking warehouses in Montreal and Vancouver.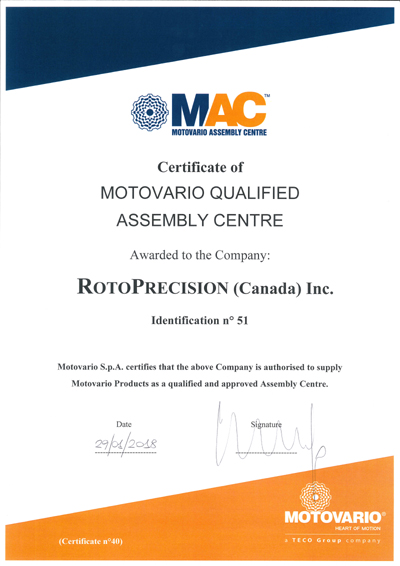 RotoPrecision MAC Certificate of Achievement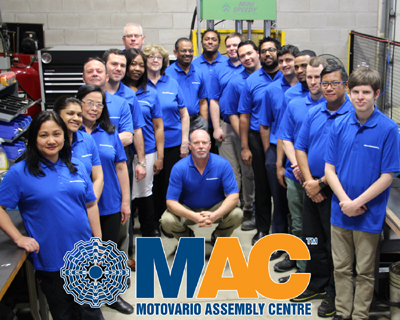 RotoPrecision MAC Centre, Mississauga ON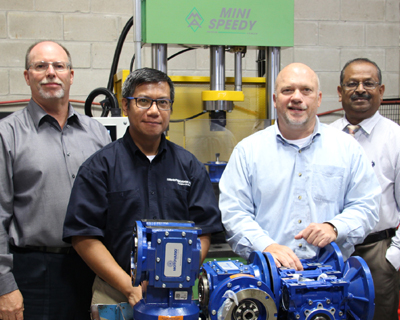 Left-to-Right: Gregg Robinson, President, RotoPrecision Inc.
Samuel Rabanillo, Operations Manager, RotoPrecision Inc.
Mark Cousson, Quality and Customer Service Manager, Motovario Corp.
Mohammed Najeebuddin, Application Support Manager, RotoPrecision Inc.


Following the launch of its initial range of mechanical variable speed drives in 1965, the Italian-based Motovario Corporation has since evolved into a global leader in the development and manufacture of constant speed drives, gear reducers and electric motors. The company manufactures a complete line of helical, helical-bevel, worm and shaft-mount gear reducers as well as speed variators and electric motors. www.motovario.com

For additional information, please contact Application Support.