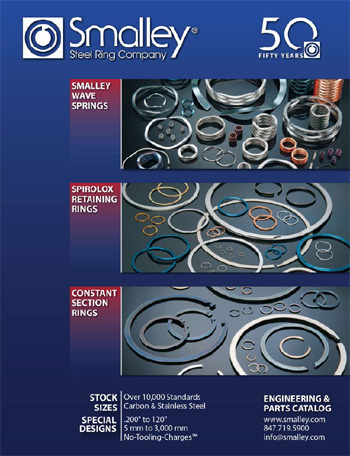 Mississauga, Ontario: The Smalley Steel Ring Company, world leaders in the manufacturing and development of Retaining Rings, Constant Section Rings and Wave Springs, announces the launch of a new Metric Parts and Engineering Catalog.

This new catalog combines previously existing retaining ring and wave spring series sections with newly released series including Hoopster retaining rings, constant section rings, metric wave springs and small series wave springs.

"The new Metric catalog offers customers a comprehensive look at all of Smalley's 10,000 standard parts," commented Bill McClelland, Smalley's Director of Engineering. "The newly updated content, specially tailored to our international customers, features 130 pages of part tables, engineering guides, design information and expanded part offerings. The catalog is an ideal resource for engineers needing detailed product information for quick prototypes."

The new catalog is offered both in hardcopy and PDF for download.


The Smalley Steel Ring Company is a world leader in the production of retaining rings, constant section rings and wave springs. Smalley offers thousands of standard configurations, does not charge for tooling, and offers deliveries including special orders and working prototypes in as little as two weeks from the time-of-order. The company meets international standards of excellence including ISO 9001, ISO/TS16949, AS9100 and ISO 14001. The eadquarters and manufacturing facilities are located in Lake Zurich, Illinois. www.smalley.com


For additional information, please contact Application Support.