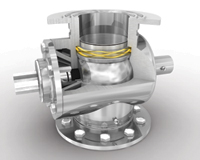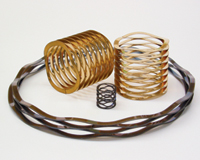 Mississauga, Ontario: In addition to its range of carbon and stainless alloys used in the manufacturing and production of wave springs and retaining rings, the Smalley Steel Ring Company now offers a wide range of special alloys found largely in Canadian oil and gas production including Inconel, Elgiloy (to NACE® standards), Waspaloy, Hastelloy, Monel, A-286 and others.

Founded in 1918, all Smalley products are engineered to the highest quality standards and utilize a unique edge-winding manufacturing process in which rings and springs are wound from pre-tempered flat wire on edge to create a near-perfect circle. This eliminates any tooling charges, greatly increases design flexibility and reduces lead times as dies do not have to be produced. There is virtually zero waste.
• Over 10,000 standard material sizes available from stock in carbon and stainless
• Stock diameters ranging from 1/4" (6mm) to 16" (400 mm)
• Custom diameters available from 0.200" (5 mm) to 120" (3000 mm)
• No-Tooling-Charges™ on all orders including specials and prototypes
• Deliveries (including specials and working prototypes) in as little as two weeks
The Smalley Steel Ring Company continues to develop innovative techniques in wave spring and retaining ring production making it a preferred source for the most demanding of applications in Canadian oil and gas production. RotoPrecision is pleased to represent exclusively in Canada the complete Smalley product line. The Smalley Steel Ring Company announces the launch of the new Metric Hoopster Retaining Rings. Hoopster Rings offer an innovative way to retain mechanical components when space is a problem. The Hoopster's minimal radial projection and shallow groove depth allows them to fit where regular stamped rings and retaining rings cannot.


Smalley Steel Ring Company is the market leader in the leader in the manufacturing and development Retaining Rings, Constant Section Rings, Snap Rings and Smalley Wave Springs. Smalley offers thousands of standard configurations, does not charge for tooling of non-standard sizes, and in most cases can provide special orders in as little as one to two weeks. The company meets international standards of excellence, including ISO 9001, ISO/TS16949, AS9100 and ISO 14001. The company's world headquarters and manufacturing facility are located in Lake Zurich, Illinois, northwest of Chicago. http://www.smalley.com/hoopster